"There Is Only Renewable Vision":
A Day with Camille Dungy
Nathaniel Youmans, Assistant Editor
Class of 2020
"There Is Only Renewable Vision":
A Day with Camille Dungy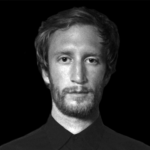 Nathaniel Youmans
Assistant Editor
Class of 2020
"I appreciate when the world acts as metaphor as well as fact: writing is like smoke from a fire that spreads and keeps spreading." This is how Camille Dungy, the Rainier Writing Workshop's 2017 Judith Kitchen Visiting Writer, began her poetry course at our annual residency. She arrived in Tacoma a day after the wildfire smoke blew south from British Columbia to settle over Washington, where it remained for weeks to follow. It seemed fitting, then, that the poetry course she facilitated at Pacific Lutheran University was called Poetry for the Current Climate. As we sat in the great lecture hall in Xavier discussing the works of poets ranging from Adrienne Rich to Terrance Hayes, Sheryl St. Germain to Craig Santos Perez, it seemed fitting, too, that the color and light beyond the windows kept shifting, turning both new and ominous in the haze. It was as if the physical atmosphere were echoing Dungy's injunction to transform and re-present the world around us with the poetics of moral urgency.
A professor of English at Colorado State University, Camille Dungy is the author of four volumes of poetry and one book of essays, and she has edited two anthologies. Among her many honors are an American Book Award, two Northern California Book Awards, a California Book Award silver medal, and a fellowship from the NEA. But if there are two things you should know about Camille Dungy, they are these, as she told the class: First, her favorite poet is Lucille Clifton. Second, lathe, she argues, is the most beautiful word in the English language.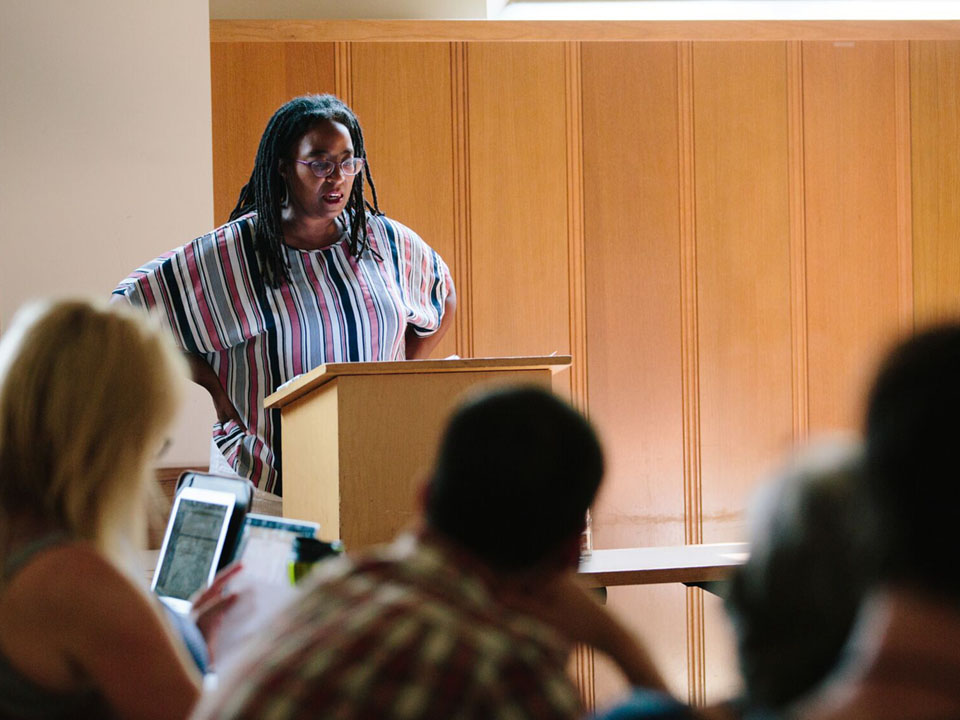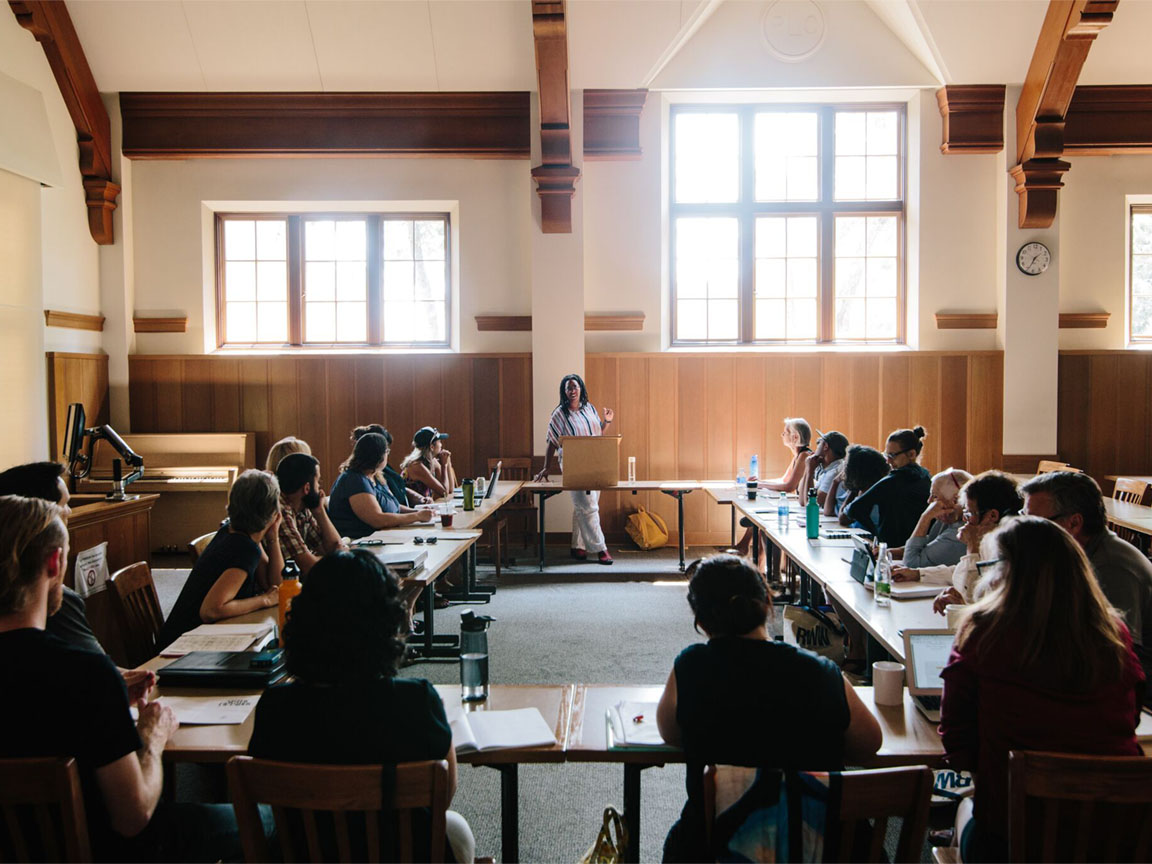 Photos by Jason Comerford.
Her poetry course was a lively discussion and close reading of numerous contemporary poets, paying attention especially to how elements of their craft and voice respond with vigor and vitality to entrenched structures of domination and abuse in our societies—such as systemic racism and the unmitigated destruction of the environment for private gain. To be a citizen, or, rather, to perform one's citizenship in this grave chapter of the twenty-first century, Dungy suggested, we must challenge what we expect of ourselves and of our writing.
"We are the light keepers," she said. "We are the ones people turn to." Our prerogative as writers, she went on, is a moral one: to be a beacon, to reenergize perception and expand the capacity for renewal, to incite critical conversations and not defer to the injustices of silence and erasure. When we read the white space on the page in a new light—as the disproportionate marginalization of black, inner-city communities that Dungy discussed in Lucille Clifton's urban poems, for example—then even in the quiet moments, even in the vast caesuras, we continue to push back, because our perception has molted. The language we use is forced to evolve. That Dungy's visit to RWW came on the heels of the previous morning's faculty-led panel about the role of writers and artists as forces of resistance further amplified the voltage of our already-invigorated community.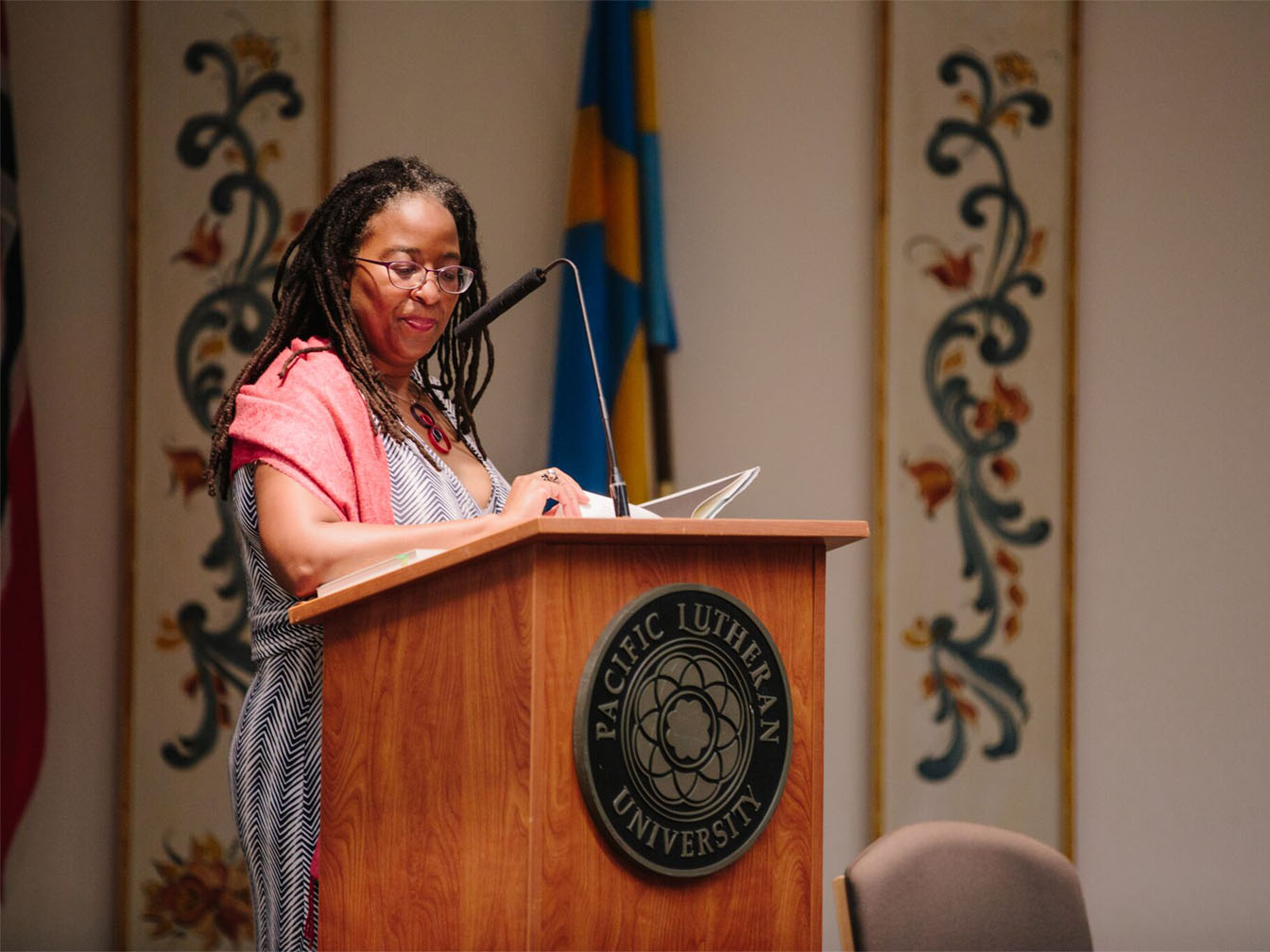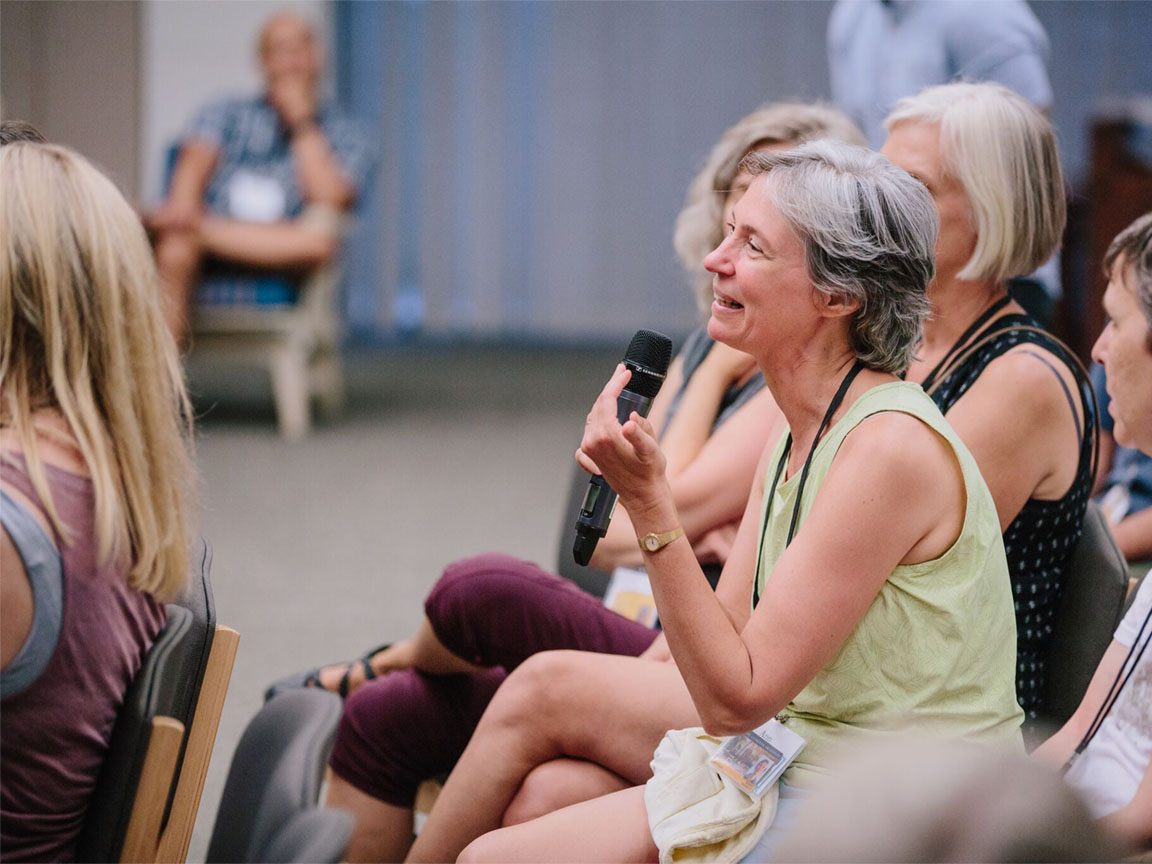 Photos by Jason Comerford.
That evening, Dungy's reading drew a full crowd, with members of the PLU and Tacoma communities in attendance. She read a selection of poems and an essay, followed by a Q and A session in which she spoke of her role as a black, female educator. She spoke of the crisis of the lack of diversity in literary publications, and she offered suggestions as to how writers can and should strive toward greater representation while always evolving their craft. She spoke of a serious injury she sustained while hiking in the mountains and being forced by immobility to reflect deeply, sometimes disturbingly, on the stakes of writing and art. Perhaps most poignantly, when asked how she continues to keep writing and moving forward in the wake of the 2016 election and the rampant turmoil this year has produced, she spoke with an earnest vulnerability of how difficult it can be at times to follow her own advice. But to stop writing would, in effect, be to stop being. Never without great humor and generosity, Dungy imparted to the RWW community the grace of a passionate educator and activist as well as the tremendously mindful vision of a singular artist.
"There is no new news," she said. "There is only renewable vision. There is only not remaining silent."