Greetings
Hannah D. Markley, Editor
Class of 2023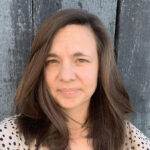 Hannah D. Markley
Editor
Class of 2023
RWW students, alums, and faculty—
A few years ago, I combined a cross-country move from Washington state to Kentucky with an even longer cross-country road trip. When I drove into Louisville, Kentucky, I had the radio on. I heard on the national news that there'd been a shooting at a grocery store in town. Two people had died.
I didn't know it at the time, but the shooting happened a few miles from where I would live after that road trip ended, in the Kroger that I would visit whenever I wanted something beyond the everyday—lady fingers for tiramisu or a gouda and salamis for a charcuterie. Every time I would walk into that store, I'd remembered what happened there. I didn't want to be afraid, but I would wonder how we could all carry on as if nothing had ever happened.
The day after the shooting, I left Louisville for Pittsburgh. In Pittsburgh, yellow leaves papered the sidewalks, and low October clouds made the rust-colored bridges appear darker than usual, almost charred. I only stayed one night before moving on to the next place. But I heard, the day after I left, a man had opened fire during the weekly Shabbat service at the Tree of Life Synagogue.
I am thinking about this because, in the last two weeks, there have been mass shootings in Orange County, California; Buffalo, New York; Uvalde, Texas; and Tulsa, Oklahoma. I am heartsick and weary, and I'd wager that many of you are as well. Violence and loss seem to be around every turn. And these are only our public losses. Each of you likely carries private ones as well. What can words do at a time like this?
The contributors and conversations in this issue, in their own ways, address the deep aches of our times. Jennifer Elise Foerster in her craft essay "A Poetics of Listening" asks if and how writers can use language to speak to the urgent crises of the moment. Contributing Writer Keats Chaves and Jasminne Mendez's (2019) conversation, "What the Story Wants," highlights Jasminne's newest work, a play, City Without Altar, and how listening to stories leads to genre-fluid work. Our Managing Editor, Sydney Elliott, and new RWW poetry faculty member torrin a. greathouse, discuss the joys and risks of writing in "Less Lonely Together." Finally, Hannah Comerford (2019), RWW's Program Assistant, looks back at a year of Flash Classes, reminding us, too, of the community that awaits us as we prepare to gather on PLU's campus for the first time since 2019.
On another note, this will be my last issue as Editor, and what a joy and privilege it has been to serve in this role. A hearty thank-you to Keats Chaves and Elissa Favero for their work as Contributing Writer and Assistant Editor, respectively. Your diligence and kindness made my job easy. Sydney, thanks as always for your patience and guidance, and Garrett, for your technological savvy. Thank you, Rick, for your ideas, encouragement, and expert copy editing. Please welcome Elissa as the new Editor and antmen pimentel mendoza as Assistant Editor! Next year, I will take on the role of Contributing Writer. As always, thanks to you, readers, for your support of Soundings!
Strength and joy to all of you,
Hannah D. Markley