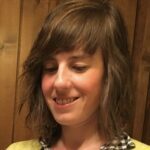 Dear RWW students, alums, and faculty,
It was great fun a few weeks ago at the annual Association of Writers & Writing Programs to reconnect with so many RWW folks and to meet members of the RWW community I had not met before. By my count, there were 34 different on- and off-site events at the AWP Seattle conference featuring RWW faculty, alumni, and students—a number that speaks to the vitality and reach of our community. Working the RWW booth at the book fair allowed me to speak with prospective students who may yet join our community and to ply them with free tote bags and notebooks. I left the conference feeling buoyed by the network we're all a part of, a mighty force indeed. And I look forward to extending that feeling with the RWW Alumni Reading happening on Zoom tonight— Monday, April 3 at 6:30 pm PST, with readings from alums Jessica Barksdale Inclán, Erin Coughlin Hollowell, Robin Farrar Maass, and John Milkereit.
In this issue, we feature a fierce essay by faculty member torrin a. greathouse about trans poetics, the resistance of empathy, and notions of failure and weaponization as well as lyricism. We also have an interview by contributing writer Hannah D. Markley with RWW alum Billie Swift, owner of Open Book in Seattle's Pioneer Square. Among other topics, they discuss Billie's hopes for the bookstore in an uncertain world. We also provide a visual sampling of RWW at the AWP conference. And as we do in every issue, we close by celebrating the literary work of the RWW community with Publications, Announcements, Opportunities, and notes on Literary Citizenship.
We hope you enjoy reading this spring issue and learning more about the varied ways our community is pursuing literary work in the larger world.
—Elissa Favero, Soundings editor