Profile: Barrie Jean Borich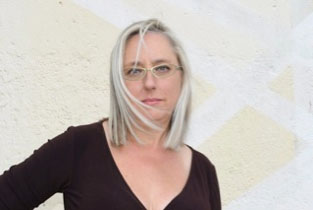 Barrie Jean Borich's Body Geographic begins with a tattoo. In this memoir, a humming needle replaced the pen; skin substituted for paper. I held onto Borich's hand as she pressed and pulled and inked her way through her life. Her writing welcomed me into a sacred space, a living canvas that exhaled with every lift of the needle. Together, we mapped home. We mapped history and cities. We mapped love. I felt invited into rare places—not just her past, but an intimate story that's tender and tough—raw as a new tattoo. In many ways, after reading this book, I felt I knew Barrie Jean Borich better than I know myself.
RWW welcomes Barrie Jean Borich to its faculty this summer. An RWW alum (2009), Barrie is the author of Body Geographic, which recently won the 26th Annual Lambda Literary Award for Lesbian Memoir. Her previous book, My Lesbian Husband (Graywolf), won the ALA Stonewall Book Award, and she was the first creative nonfiction editor of Water~Stone Review (Hamline University). 
Barrie is currently a faculty member of DePaul University's Creative Writing/MA in Writing & Publishing Program in Chicago, and she is working on Slag Glass City, a multimedia journal, which her website describes as "a creative nonfiction and new media journal focused on sustainability, identity and the arts in urban environments." She lives in Chicago near the shores of Lake Michigan with her spouse, Linnea. 
I caught Barrie at the end of a busy spring term, but she was willing to talk about her recent award and what it is like to join the RWW family as a faculty member: 
_
Sydney Elliott: Congratulations on your recent Lambda award! What does receiving the award mean to you and your work?
Barrie Jean Borich: Mostly the Lammy, at this point in my career, carries a kind of "home" validation. When I started out, there wasn't much lesbian work published in the mainstream or even the general independent press. The lesbian feminist press was the only place my words appeared in the beginning, and so many of the values I bring to my work now come from my self-training in the indie queer worlds where I wrote, and read, and edited, before taking part in academic writing workshops. 
Lambda Literary represents the queer identity worlds where I've lived much of my adult life, distinct from and simultaneous to all the usual meanings of home, and the book award comes out of a context that as an out queer writer I played a part in making, so this is an honor from my peers. I'm grateful to receive this accolade from the literary community that both helped form me and gave me my first venues to speak.
At the same time, Body Geographic is about identities that surround and expand beyond queerness, into all the layers of place and experience that form us. I'm so pleased to receive a nod for a book that is queer in form and content but also straddles where I'm from and who I've become, as a writer and as a human. 
_
SE: Our theme for Soundings this year is communion. As you come back to the RWW as an alum and now new faculty, what does that word conjure for you?
BJB: I love that the magazine theme is communion, and I'll say first, in the milieu of a writing program, that the word conjures a sweet spot where our intentions for the work and what's happening on the page are in synch, carrying us forward, into realization, re-seeing and deep subject. Communion is a pretty good word to use to describe when the work is going well.
But, too, anyone who has grown up Catholic will tell you communion is also one of those culturally resonant words that has to do with ritual, tradition, community and family, and this too relates to what I have to say about the literary sense of the concept. I grew up taking communion at mass every Sunday, but as an adult, I refrain from participation in this ritual even at family weddings and other events that involve going to church, mostly because I am no a longer a believer (if I ever was; I recall having doubts and questions about the meaning of hallowed institutions, even as a young child). This choice is indicative of the push-pull relationship to origins that permeates my work.  I am at once comforted and defined by the familiar rhythms of inherited ritual but also, in my role as the daughter who defied family expectation, I tend to hold back, refuse, critique and observe rather than participate in worlds of which I am no longer fully a part. This means, in the context of my origins, that communion too often refers to that which is missing, the word conveying loss as much as connection. 
In contrast, genuine communion has been the goal of much of what my long-time beloved Linnea and I have made for ourselves as we continually recreate the worlds within which we live. Other times and places have provided surprise communion and the Rainier Writing Workshop is one of these. I came to residency the first time almost immediately after pulling myself out of one of those worn-out and foggy stretches of disconnection and discontent most artists and teachers experience at some point. I came to grad school to earn a terminal degree, to get legit in the academic programs where I was already teaching, but also to change my story. I showed up that first summer at RWW with a good attitude, but fearing I would spend residency gritting my teeth until I was done. 
What happened instead was both a gift and a surprise. This sphere that Judith and Stan created is some kind of elixir that energized and renewed me, and the process gave me back my work, which for any writer is the ultimate communion. When Rick offered me a place on the faculty, I did all the appropriate considering and planning any new venture requires, but in truth I knew immediately there was no way I would turn him down because I've never stopped wanting to return to this place where the discontented fragments of my work and life clarified and came together again. 
_
SE: Tell us about your newest project, Slag Glass City (and any other projects you're working on).
BJB: Slag Glass City is a new digital magazine launching sometime this coming Fall that will explore nonfiction across artistic discipline. I'm developing the journal, with the help of students in the MA in Writing and Publishing Program at DePaul University in Chicago where I am currently a faculty member. My working mission statement describes Slag Glass City as "a magazine of nonfiction arts, textual burlesque and new post-industrial forms. We are a creative nonfiction and new media journal engaged with sustainability, identity, and the arts in urban environments."
I'm interested here in creating a forum where different kinds of nonfiction arts are able to bump up against, inform, and combine with each other. I want to invite literary and other arts-based conversation about urban experience, curate space for literary and other work about bodies and identities born of urban density, converse about the greening of built environments, argue about contested territories and urban justice, and, overall, inspire and publish work from and about questions of what makes all kinds of cities sustainable, livable, and evolving places to be. I'm not sure yet what all this means and what kinds of work this will lead me to publish, but I want to see what comes of asking the question. 
At the same time, I'm working on a long essay on similar themes as the magazine. My idea for this project is to make connections between what I feel intuitively to be true, which is that there is a relationship between the reclamation and re-greening of post-industrial Chicago where I was born, grew up, and live today, and the ideas about living that come out of queer communities, particularly the notion from queer theory that queerness is less an identity than a horizon. This probably sounds more lofty and ephemeral than I intend; there is a story base as well, which basically has to do with my own return to the Chicago of my birth several decades after moving away. What I'm looking for here—in a complex Midwestern metropolis I recently heard pretty accurately described as one-third San Francisco and two-thirds Detroit— is evidence of joy in the ugly and beautiful ballet of the streets. My tentative title for this project—Oh. Exhalations of the City—refers to the involuntary human utterance, the audible or inaudible language and sound that comes of the release of tension accompanying surprise, shock, beauty, fear, and wonder. I'm still just beginning to write into what I mean by all of this.
_
SE: What do you want RWW participants and mentees to know about you?
BJB: Only that we all must all write into our passions.  I find students worry too much about creating the "right" kind of work when really there is no such thing. There's only your work and I feel my job is to help students find that work.
_
SE: This is optional. Any new tattoos in the near future?
BJB: Nothing specific. I haven't looked for a studio in Chicago yet, and haven't decided if I'll go to Minneapolis to finish the honeysuckle botanical that my favorite tattoo artist has started on my leg or leave the work as a black-and-white line print. I have no immediate plans, but I have ideas—from an urban bicycle goddess, to the Great Lakes, to some homage to the urban prairie restoration. If I add more tattoo art to my body the images will of course be place-based, and probably another expansion of my work.
o
Photo courtesy of: Laura Migliorino 
_