Greetings
Hannah Comerford, Editor
Class of 2019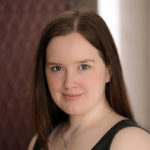 Hannah Comerford
Editor
Class of 2019
Middles can be difficult. We're past the exciting hook that drew our readers in, and we have yet to reach the ending that will make everything worthwhile. Like the second book of a trilogy, the middle carries the weight of what came before while preparing for what comes next. It's just plain hard work—enough to make you grab a drink (of tea, of course) and move back to editing the introduction, because that part was so fresh and new and inspiring and happens to be already polished.
Even though we can't have a story or a poem or an essay without middles, we don't hear this topic discussed very often. Perhaps it's because of that hard work. This is why I'm excited to share with you Marjorie Sandor's faculty craft essay, "The Neglected Middle." In this piece she explores the power of the middle part of a story, how it can be the hinge upon which the text moves toward the ending.
Also in this issue, our Contributing Writer, Lisa Morin Carcia (2018), offers her interview of our new faculty member, Geffrey Davis, in which he talks about his mentoring style, his new book, and more. Our Managing Editor, Sydney Elliott (2015), shares with us her interview with our other new faculty member Marie Mutsuki Mockett, discussing everything from her book in progress to her love of skeet shooting. Of course, we celebrate the accomplishments of our community in the literary world with our Publications, Announcements, Opportunities, and Literary Citizenship pages. And, finally, we finish this issue with a memorial to the late Keven Drews  (2016).
It's serendipitous that we are exploring middles as I finish up my second year at RWW—the middle of my MFA. The shine of the first year has worn off, and the glamor and frenzy of the end has not yet come. This year, I've had moments that felt like the silent middle, when I wasn't quite sure where I was going and moving onward was so hard that I grabbed a drink (of tea, of course) and looked to easier tasks than the ones most necessary. But this has also been a year of growth, and I thank Soundings for pushing me to be creative, work hard, and support our community. I am incredibly grateful for this difficult but powerful "middle." Thank you for being a part of it!
—Hannah Comerford, Editor