Across Three Time Zones
An interview with alumni Natalie Tilghman and Bill Sommer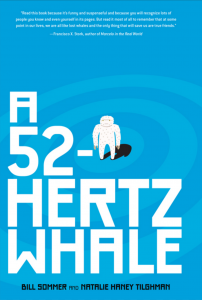 Check out any issue of Soundings and you're bound to see an impressive list of accomplishments from alumni, faculty and students. This academic year, along with a myriad of publications, RWW associates have been awarded a Guggenheim Fellowship, the PEN Open Book Award, the Red Hen Press Nonfiction Award, the Washington State Book Award, the Keystone Award, a Pushcart Prize, the Lambda Literary Award, and the Floating Bridge Press Chapbook Award, to name a few.
The literary award season kicked off in September 2015 with Natalie Tilghman (2011) winning the Rona Jaffe Award, an award made to women writers of exceptional talent for support early in their career. As the only award of its kind in the US, it's a pretty special accomplishment. In addition, the YA novel she and her collaborator Bill Sommers (2012) wrote, A 52-Hertz Whale, was shortlisted for the Green Earth Book Award, an award recognizing environmental stewardship in children's literature.
A 52-Hertz Whale is a coming of age story in the best tradition of the genre, told through a series of emails all loosely connected by the communications of a 14-year-old boy, James. Distressed about a young whale he is monitoring, James reaches out for help to a young documentary filmmaker, Darren. The ensuing communications between the two young men, as well as among several marine scientists, James's friends, Darren's roommates, and various family members,
are an exploration of loneliness and connection in the age of the Internet.
The book's unusual method of composition, as you'll see in the interview, brought Natalie and Bill together across three time zones in a process that unfolded in surprising ways. Their collaboration is special, not only as an example of the talent and collective climate of our program, but because it showcases the possibilities of connection and synergy that low-residency programs bring to our literary endeavors.
How did you begin your collaboration?
Natalie: I didn't really know Bill all that well. We had some casual coffee shop conversations outside classes at residency, and we were in a lot of the same workshops. I graduated first, but we kept in touch, and one day he emailed me to ask if I wanted to assume character identities and email back and forth to each other. And I thought to myself, "Wow! That's pretty weird, but, yes, I will!"
He chose Darren, and I had a character I had been working with, James. We set some rules about how we would communicate, like keeping things in real time, and then we just started. It was about halfway through when we realized we had something we might be able to plot into a novel.
Bill: I was worried about the MFA slump, and I got this idea that the best way to avoid that was to find someone to write to. I came up with Natalie because she was funny and a good writer, and we both approach writing the same way. At the time, I was embroiled in a pretty heavy novel and needed a break. We both had the same approach to the writing, gentle and with a basic improv rule of "yes, and." We trusted the writing and were able to go with our instincts. Originally it was just a chance to get to know the characters, but we also saw it was going somewhere, like a blog or a book, so we just kept going. 
Can you tell us how much you knew about each other's characters before you started?
Bill: From the beginning we made this pledge, because everything was going so interestingly, to never mention what was happening in the book if we talked or emailed outside the book. It was a beautiful part of it, and I'm really glad we maintained this, because I would be excited to look in my inbox and wonder, "What is James up to now?" Often I would see a tendency in Natalie's writing to do the same thing over and over with James, and I, as Darren, would ask a question to frustrate that. I would also do things specifically to challenge things she was doing. It's so hard to do this when you're writing alone: get your character to do something they really don't want to do. So at the same time we were editing each other, we were also challenging each other, using our POV to push around the other characters. Natalie told me afterwards she did the same thing.
Natalie: I told him James was a socially awkward 14-year-old boy obsessed with whales, and he told me about Darren, a 22-year-old aspiring documentary filmmaker. We didn't know anything else, so that first email in the book from James started the story. From the beginning, I didn't know where to begin or how they knew each other. Often, I would get an email from Bill and it would really put James in a hard spot; you know, if you put your character up a tree and start throwing rocks at him, it's going to create conflict! It was good for tension, though; each of those emails presented a new issue to James that I needed to figure out how to write him out of.
Speaking of other characters, how long before you began writing characters other than James and Darren? How did you divide them up?
Natalie: We started adding a couple of extra characters before we sent the manuscript out for publication. When our editor saw the manuscript, he was interested in adding more voices—I think he saw the finished product as a fugue—and as he and Bill are musicians, they liked this approach. We wanted to explore how loneliness impacted other lives. I took the characters more closely related to James's life, and he took the characters more closely connected to Darren's life. James was a character who required a lot of research, so it was really fun to jump in and out of the heads of all these different people.
Bill: Natalie had a different approach from the beginning. She was building a complete subplot with James's friend Sophia, and Sophia's mother's new boyfriend, Albert. It was always meant to have its own arc. I was writing these little vignettes meant to be episodic to give more context to Darren. Darren is a character who sees the poetry in life, but hasn't been that good at following it, so at some point I realized I had to give him more of a biography. I did have fun using the initials of my friends for some of the minor characters, like Darren's roommate and colleagues. At the end of the first draft, our editor had us round this out and so we would come up with different characters together. We both wrote characters in the widow's support group and the whale scientists, and then we would workshop them together.
Do you see a major difference between YA and adult novels?
Natalie: I wrote about this in my RWW thesis, actually, on the subject of writing young voices. I think the confessional element of the email form really captures the qualities of the adolescent voice. I've had some young people tell me one of the best things about the book was the chance to read other people's emails!
As a genre, I think YA writers take a lot of risks and there's a lot of experimentation. Some of the best fiction being written right now is YA because of the willingness to experiment. One of the women I was on my book tour with wrote a novel in verse, and another wrote hers as a playlist. There are so many interesting things being done with character and content, as well as form in YA. It wasn't that Bill and I set out to write a YA book—in fact, it might have ended up as that genre for commercial reasons; we were just writing the book to tell the story. When you stand back and look at all the great things YA writers are accomplishing and the amazing canon of books, it's wonderful to be a part of that tradition. I think that young people might be more open to experimental literature.
Next projects?
Natalie: I'm planning to use the grant from the Rona Jaffe Award to fund a trip to Italy and childcare to finish my second novel, Home Remedies. It's set in Italy and the US, and is based on my grandmother and her sister and their experiences coming to America after WWII. I'll be visiting a master goldsmith and some WWII museums, and also spending time in the village my family came from. They were goldsmiths, and the story has to do with a special piece of jewelry called "presentosa" and how it magically changes a young woman's life. The Jaffe award is for adult literary fiction, so I'll be firmly in the adult world.
Bill: Now, I'm working on an adult novel about a woman with agoraphobia living with her son, and the relationship she develops with her upstairs neighbor, a goofy drummer. I'm writing in a different gender, and about a psychological disorder I don't have, as a challenge to research and do the work to get those places of empathy and difficulty.
Any thoughts on RWW or advice for students in the program?
Bill: The overall culture and climate at the RWW was a part of being able to write this book. As far as other programs being more competitive, it's not something I've thought about too deeply. It's true that there was a program-wide feeling of "we're all in this together" and not "so and so just got a story published in Narrative magazine," so the idea of competition in an MFA program is just a legend to me. I hear about that, and I think that's a bummer.
Natalie: I guess I can't say enough about how it changed my life; I wrote a book with a fellow student! I think the best piece of advice I can give is to foster the relationships with your colleagues and the mentors and remember it's like a big family. Even if you haven't met the "great aunts" or "great uncles" among the alumni, we're all out here, we all love you, and we're all interested in each other's work. The supportiveness of this community in the current climate for writers is a rare and beautiful thing. There is such a generosity of spirit in this program, and it is really special.
_
_