_
It would be easy to say a weeping willow perfectly reflects our sorrow. But it's not the waterfall of green we honor when remembering such a magnificent woman as Judith Kitchen. Instead, it's an apple tree—the metaphor for this issue's theme. As we all mourn Judith's death, we also celebrate her—which is why the weeping willow won't work here. While I have no doubt we all wept at her death, joy lives alongside our sorrow. We come to the page—to each other—to remember and recognize, to admire and share the love we all have for her work.
For her.
I could speak more of trees, could allude to how Judith's spirit was as bright and nourishing as the most crisp apple found in the Midwest. I could metaphor her existence. I could go on to say she's still here, with us. In us. But these are all of the sentiments you'll find in the Spring 2015 issue of Soundings—our adoration for Judith perfectly represented, sounded out so beautifully as we celebrate the pronounced ways in which she made an impact on the craft, on writers.
On us.
Sydney Elliott reports on the tree planting ceremony held in Judith's honor. Stephen Corey explores how his editor/author relationship with Judith formed and grew. There are personal anecdotes from faculty members and alumni, as well as short critiques of her work from authors who saw Judith as paramount in the rise of creative nonfiction. And Stan Rubin closes the issue with his own thoughts on his wife, his best friend, his colleague.
After Judith died, I re-read her work. I soon realized that Only the Dance was her one book I didn't own. Out of print now, I ordered a used copy online and sank back into Half in Shade while I awaited the arrival of Only the Dance. And then, a few days later, a twenty-year-old copy comes in and, well, look at that; it's signed.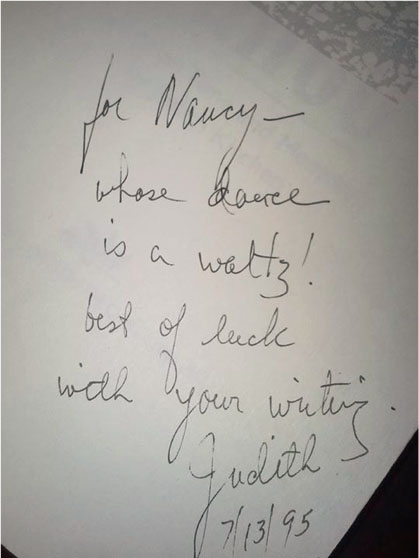 There are many ways we can show how we're here, that we're living in the world. With the world. We can write out memories. We can plant a tree. We can read a book. But what I want to do is carve Judith's name in the trunk of her own tree just to show the world, again, that Judith was here, that the memory of her will never leave, that she made her mark on all of us, because…well, because she was Judith. Most of you  know exactly what I mean. Here, we celebrate and reflect on just who Judith Kitchen was—a woman and writer who will forever have her own residence inside of us. A willow may weep, we may weep, but it's that bright, crisp, exuberant essence of all that Judith was that keeps her here, waltzing.
–Chelsey Clammer, March 2015
_