An RWW "Love Fest" At AWP
An astounding amount of participation by the RWW community was evident at the Association of Writers and Writing Program's 2014 Conference in Seattle, WA, where at least thirty-five official panels or events featured an RWW faculty member or alumnus. That doesn't count the many off-site readings and get-togethers by participants, faculty and alums, as well as the pre-AWP Tenth Anniversary Celebration of the Rainier Writing Workshop in Tacoma the night before AWP's official start. Anyone who read through the comprehensive listing of panels and events lovingly prepared beforehand by Karin Rosman (2014) and Tina Schumann (2009) can tell that in our tenth year, RWW has hit some kind of Critical Mass of Communion, both in spirit and in bodies. As alum, Lita Kurth (2009), noted in the subject line of a listserv email blast just following the conference, the week's events were like being at "a love fest!"
The love fest began, in my mind, with Stan Rubin's tender reading of a love poem to his wife and colleague, Judith, at the Tenth Anniversary celebration event on the Tuesday night before the conference. Tributes to our Ma and Pa by PLU administrators were followed by razor-sharp readings by Kate Carroll de Gutes (2010) and Kelli Russell Agodon (2007) (along with droll commentary by Master of Ceremonies, Jay Bates [2007]). This followed afternoon readings at Garfield Book Company (which a late flight caused me to miss, but I did not miss out on that truly massive chocolate cake, the coffee, and the good company at (where else?) the Scandinavian Cultural Center! Kudos must go to the students of the PLU Book Arts class who created a handsome portfolio of broadsides of works by Stan, Judith, Kelli, and Kate. (These were on sale at the event to support RWW's fund for Outside Experience aid; copies can still be purchased for $20/each by contacting incoming director, Rick Barot).
Then it was on to Seattle. I knew there would be no possible way for me to cover the entire RWW waterfront (though I did enjoy a short walk along the Pike Place Market waterfront courtesy of Seattle resident, Stasa Fritz [2013]). I did my best to attend as many events from the Schumann/Rosman Master List as possible. First out of the gate was a Wednesday night reading by Adrianne Harun and a handful of her Sewanee Writers' Conference colleagues reading their latest work (while most attendees were still in transit to Seattle or just getting settled in their hotel rooms). The intrepid Ann Hursey (2012) and Lita Kurth (2009) and I found our way, however, to an appropriately dim cave of a basement speakeasy in Bell Town to hear Adrianne read from her dark and lyrical new novel, A Man Came Out of a Door in the Mountain (released only the day before!).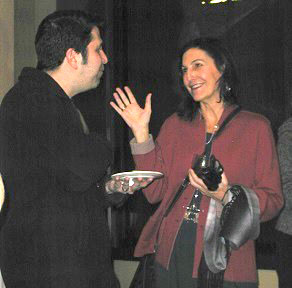 The next morning, I squeezed into a packed house that showed up for faculty member Suzanne Berne's excellent panel on writing the child's voice in adult literature, featuring RWW faculty Kent Myers and Ann Pancake, along with Melanie Rae Thon.
Before that and in quick succession after came many other fine panels featuring faculty and alums, including Lia Purpura, Scott Nadelson, Linda Bierds, Cindy Stewart-Rinier (2012), Holly Hughes (2006), and readings by Peggy Shumaker, Erin Hollowell (2009), and former Washington state poet laureate, Kathleen Flenniken (2007). And that was just the first day of the conference!
In the interest of space, I'll skip past subsequent conference days; my own editorial word limit prevents my doing justice to such a jam-packed love fest. I defer to said Schumann/Rosman Master List (which I feel is deserving of a place of honor in perpetuity among the other archives housed on this Website).
Suffice it to say that the auspicious opening day heralded a rich weekend of readings, conversations, debates, much complaining of sore feet, and other initiations, reconnections, and fleeting moments of Biespielian transcendence! There seemed to be a fairly constant hubbub of activity around the RWW Book Fair booth, where names were put with faces for the first time, where hugs and squeezes and love-festing were in abundance, and where we reeled at the amazing number of RWW participant-authored books for sale!
And we marveled at the munificence of drink tickets distributed at the Aspen Room RWW Reception, the lady bartender's swiftness of drink preparation, the brevity of Stan Rubin's remarks at same event, and that handsome new salt and pepper goatee on David Biespiel!
In closing, I offer in communion a few tidbits of overheard RWW conference wisdom:
"When faced with the barrier of my intellect, a child's POV or voice/vision is a swift bypass to my creative unconscious." –Ann Pancake (Writing About Children for Adults)
"I'd like to talk about the used car salesman aspect of anthologizing essays on a shoestring." –Judith Kitchen (Organizing the Truth: Building the Nonfiction Canon)
"We should do this. We ought to do this. We can do this." –Lola Haskins (on the luminous music-scored reading of "The Bear" by Rick Bass and those astonishing musicians of Stellarondo)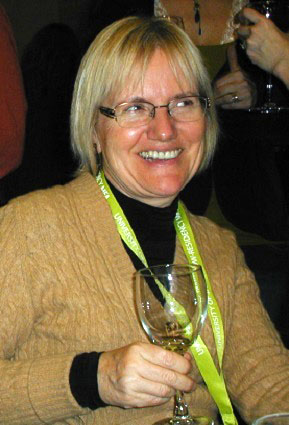 …and, of course, this final benediction from love-fester Lita Kurth (2009):
  "RWW uber alles!"